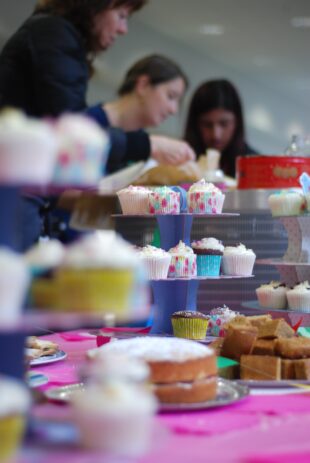 Looking back on another busy month across the digital transformation programme here's a few things that stood out:
Moving to beta  
DVLA's View driving record exemplar and the Intellectual Property Office's Patent renewals both moved into public beta on 31 March. The teams continue to improve and build on the feedback they receive from users. It's worth taking a moment to celebrate the triumph for the teams who've put in the hard work - DVLA's blog post last week gives a good sense of what it felt like when they pressed that button!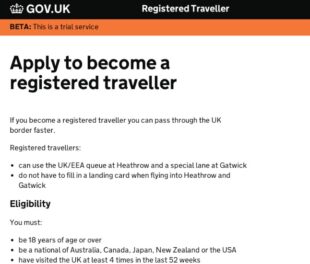 Registered traveller moved into private beta in the same week - people who travel frequently to the UK for business can now apply to use this service while it is tested. Feedback has been positive, with users describing the form as straightforward, clean, and easy to read.
The service is pictured here.
Cakes and samosas: a successful Sprint Justice
MoJ's Sprint Justice event was a real success, with practical workshops on agile, changing the way we work with third party suppliers and making policy open.
We heard from Paul Shetler, MoJ's new chief digital officer, digital leader Matthew Coates and Minister Simon Hughes. The key messages were to always be mindful of your users and that digital is about connecting them with government - whenever possible we should make things easier and better for them. For MOJ, speed and efficiency of their services is a basic must.
Lasting power of attorney and Prison visit booking exemplar services were shown, along with feedback from users and a keynote from the Public Guardian, Alan Eccles who told us that with Lasting power of attorney, the team hoped for 10% digital take up for the end of year 1, and reached 10% within 5 months.
He also reminded us that governance can - and must - be agile in order for teams to build and deliver these services in the way they need to.
Welsh versions for Carer's allowance and Waste carriers
Speaking of cake - as we blogged recently, the exemplar team in Preston enjoyed Welsh cake upon the successful delivery of the carer's allowance in Welsh.
Over at Natural Resources Wales, the team used the code from the Environment Agency's Waste carriers service, saving them time and money, and allowing users to register their details in Welsh - helping them meet legal requirements to do so.
… and in Birmingham - the Minister visits two exemplar teams
Minister for the Cabinet Office Francis Maude visited two Birmingham-based exemplar teams last week. The digital team at the Office of the Public Guardian showed progress on the Lasting power of attorney exemplar service as well as work on their case management system, which the team feel is bringing the citizen closer to the staff managing their case. Over at the Insolvency Service the digital team showed the Minister the Redundancy payments exemplar service and talked about their digital journey so far.

Want to keep up-to-date with transformation news? Sign up for email alerts.