I'm Helen White and I'm a Business Analyst for the registered traveller exemplar at the Home Office. Registered traveller has just moved into private beta: this post shows how our team is using agile methodologies in a way that works for us. 
There is a misconception for those that haven't worked in agile that it does away with process - however with anything with an input and an output, there is a process. What's different with using agile is that it allows for change to happen quickly by looking at the detail in bitesize chunks.  If it isn't working, then the process should be changed.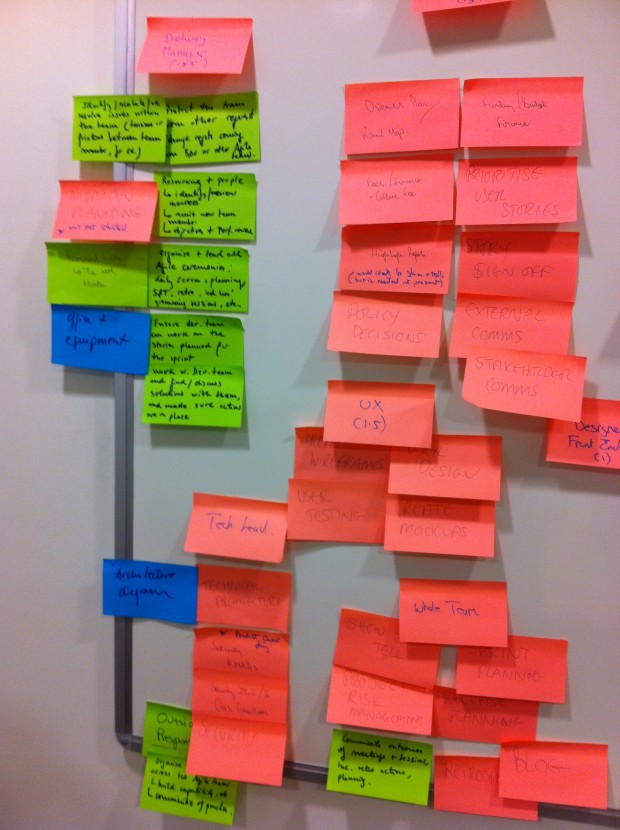 Within the registered traveller exemplar team we have just moved from weekly sprints to two weekly sprints.  We made this change because there was not enough time to prepare the stories for sprint planning within a week, and write all the tests ready for the stories to be estimated.
We are trying to build a routine into our sprints, and have several fixed meetings that we are trying to stick to.  There are the obvious ones; sprint planning at the start, the daily stand up, and the show and tell followed by the retrospective at the end of the week.
In addition to fixed meetings, we are adding other get togethers to keep the agile process working:
design workshop for all the team to get involved with design ideas

Behaviour Driven Development session where developers, testers and business analysts get together to write the automated tests

business workshop where our caseworkers from Prestwick come to London to go through the work we have done and discuss various elements of the scheme that need thinking about in more detail
When we stick to this process and have these sessions, feedback is good and there is a greater understanding by all involved of the product being created.  We find if we don't have regular meetings, there is less clarity, and by the time sprint planning comes around, stories have to be pulled due to lack of understanding and detail.
We are still in the early stages of our new 2 week sprint process, but so far the results are looking positive.  Let's hope that we can keep up the good work.
To find out more about agile methodologies, have a look at the manual, here.