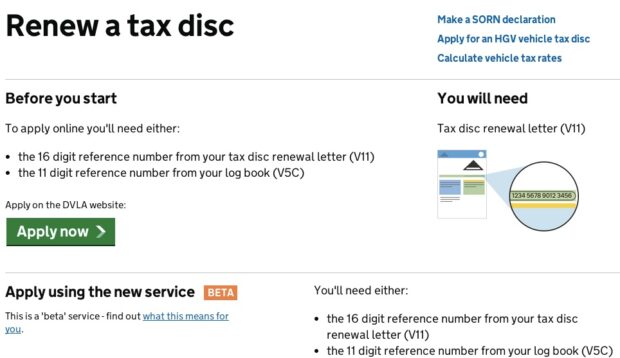 A lot has happened over the past few weeks across the transformation programme and within the departments and agencies among our 25 exemplar services. Here's a roundup.
DVLA release beta for online tax disc
As reported recently, DVLA announced that they've released the beta of the online tax disc service, and Vehicle Management is now 3 sprints into alpha. The team at DVLA has a working prototype of their first service, 'disposal to trade'. This online service will notify DVLA when a vehicle keeper has sold their vehicle into the motor trade, providing reassurance to users that their record is accurate and up to date. Keep an eye on their blog for updates.
Work has also progressed with the development of their exemplar services - View driving record is set to move to public beta this month. There is more about this on the DVLA blog .
Across the exemplars
Passports is a new addition to the transformation programme. Working with Her Majesty's Passport Services, this exemplar will soon move to alpha, and has replaced the Criminal record check service. We look forward to sharing more about the scope of the Passports exemplar soon.
Beta build has started on Redundancy payments, one of BIS' exemplars. At the Home Office, the Visas exemplar - now in private beta – saw the first real user complete the new Tier 2 online application. This type of visa gives the temporary right to work in the UK.
Making a difference for users
It's great to see the exemplars beginning to make a real difference for users. Over 80,000 applications were made in a single month on the Student finance service for full-time higher education loan and grant applications for 2014/15. And HMRC released private betas for 3 exemplar services - the PAYE tax platform has around 2,000 invited users.
The potential of digital government also caught the interest of CNN who interviewed Ian Trenholm, COO of DEFRA about how digital services will make life easier for farmers - here's a clip.
As you might have seen seen, a focal point for the Sprint14 event in January was the live demo showcase of 5 exemplar services by departmental Ministers, who showed the audience how simple the services are to use and the difference they can make for users, which is what it's all about. Here's the video. Enjoy!
Keep in touch. Follow David on Twitter or sign up for email updates from this blog.