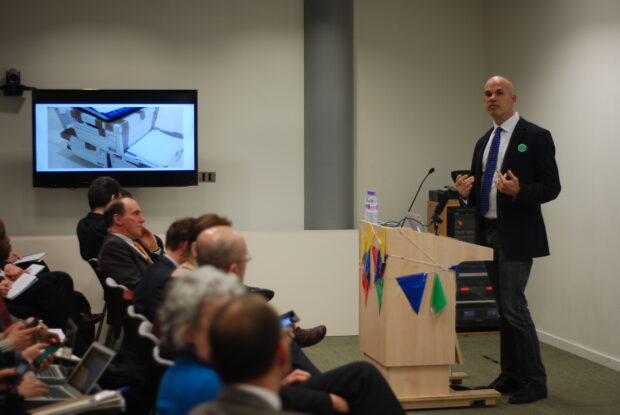 The Ministry of Justice is home to four exemplar projects and MOJ Digital Services is working with GDS on the department's digital transformation, building new user-focused digital public services.
As we mentioned in our monthly highlights, the team recently hosted Sprint Justice, an event attended by around 200 people. MOJ staff and digital leaders from across Whitehall were offered an insight into the future of digital across the justice sector and a chance to indulge in delicious cakes and samosas that were sold to raise money for the charity MySociety.
The team at MOJ tells us more about the day:
The Secretary of State opened the event by video, setting out the significant progress already made and how he sees digital at MOJ developing in the future.

Justice Minister Simon Hughes drew on his constituents' experience of using digital tools at a community day care centre for older people: his surprise at learning that they were using online dating made him realise that government digital services should be equally as easy to use.

Chief Digital Officer Paul Shetler spoke about how justice services will be built from now on, and demonstrated the new prison visit booking tool – one of MOJ's digital exemplars. He explained that the "scheduler" element of the tool has been picked up by other departments, including the Foreign Office, Home Office and the Northern Ireland Office, and that MOJ will be making this available for them – and others - to use as open source code.

Attendees could choose from three interactive workshops, including an Agile Masterclass, a session on open policy making led jointly by Digital, Communications, Policy and Analytical Services, and an introduction to how open internet tools such as Evernote, Trello and Doodle can help change the way we work.

Mike Bracken, Executive Director of Digital for Government, closed the event and spoke about how the digital agenda must go beyond "no more big IT". He said there has to be an accompanying culture change to arrive at the point where there's "no more big IT thinking".
Attendees made some great pledges, including "Be transparent about project progress: it helps things to fail fast, saves wasted effort and builds trust", "Find out conditions under which Agile gets the best traction" and "I'll have just one more samosa". Feedback from attendees was very positive and it is clear that events like this one can really help with sharing knowledge and spreading ideas. Brilliant to see MoJ Digital Service's hard work in arranging the event pay off.