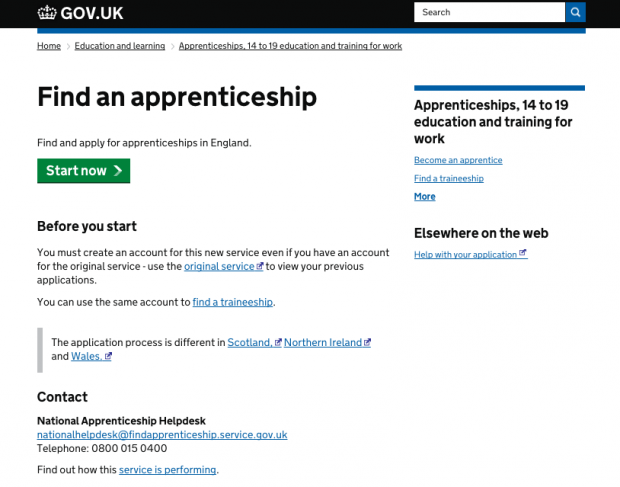 It's National Apprenticeship Week 2015 and, as part of our series of posts from people who've been involved in the Transformation Programme, Gary Tucker, Service Manager for Find an apprenticeship, shares what the team have learnt.
The Find an apprenticeship service has been helping people search and apply for apprenticeships easily online since December 2014.
Achievements so far
We're in the process of preparing for our live assessment and so have been reflecting on our journey so far. There have been lots of achievements, big and small, and it feels timely to highlight a few.
Firstly, we (and our users) are benefiting hugely from continuous delivery. So far in our public beta we've released 20 times to introduce new functionality and improvements. Our existing service had a twice-yearly release schedule.
Secondly, the exemplar has been the catalyst for a huge amount of change and learning within the Skills Funding Agency – some of which our architect Simon Swinburne has already talked about. We're ruthlessly questioning the processes we have in place. If we find they have the effect of hindering rather than helping us rapidly deliver value to our users, we're challenging and changing them. We don't expect this will ever stop – there will always be something to improve in the way we are working, either within our multidisciplinary team, or in the way we interact with others in our organisation or sector.
Thirdly, now that we've been operating our new service for a few months, we are getting a clearer picture of the savings we'll make when closing our existing service in its entirety (expected to be early 2016). We stand to make significant savings through developing and running the service with an in-house multidisciplinary team, compared with our existing outsourced service.
Three useful lessons
We've also been reflecting on what we've learned, and what we need to improve as we progress towards live with our candidate service. Here are 3 lessons learned during our public beta:
1. User success is not linear
People looking for an apprenticeship are in the process of making an important life decision. Not many of our users register, search and apply within a single visit – most are in 'browsing' mode, returning to the service multiple times to search and refine their thinking before making applications. We also support users who are searching and applying, but are not getting to interview stage. These users may lack key skills or qualifications, so we've introduced a feature to detect when they are struggling and prompt them to consider searching and applying for a traineeship as a first step along the way.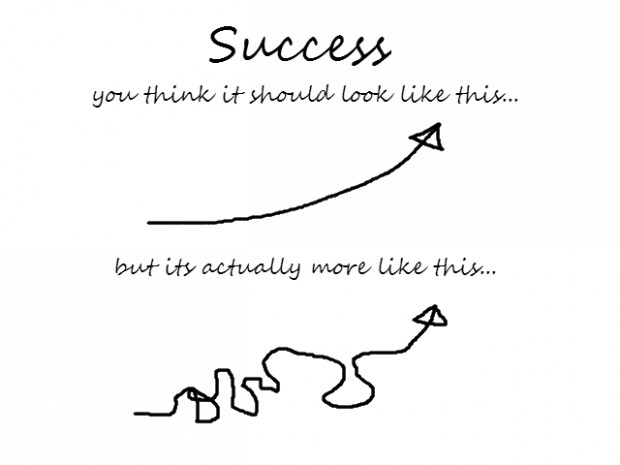 2. We need to constantly juggle breadth and depth
Our minimum viable service focused relentlessly on the needs of our end users – the candidates themselves. Our user research with them showed they wanted a simplified search interface that would get them into the application process quickly, with keyword and location being their primary criteria. But soon after we launched we received feedback from people who work to support candidates, like careers advisors and teachers. They needed more complex functionality, like the ability to browse all apprenticeships in a particular sector. This is because they were using the search to meet a different need – helping users who weren't yet ready to apply for a specific apprenticeship identify what types of roles might be of interest to them. 
Because we'd built a service we could iterate, it was easy to quickly research, prototype and then release this feature. But the experience has reminded us to keep the breadth of multiple users' needs constantly in mind, even if we're focusing on specific features in each sprint.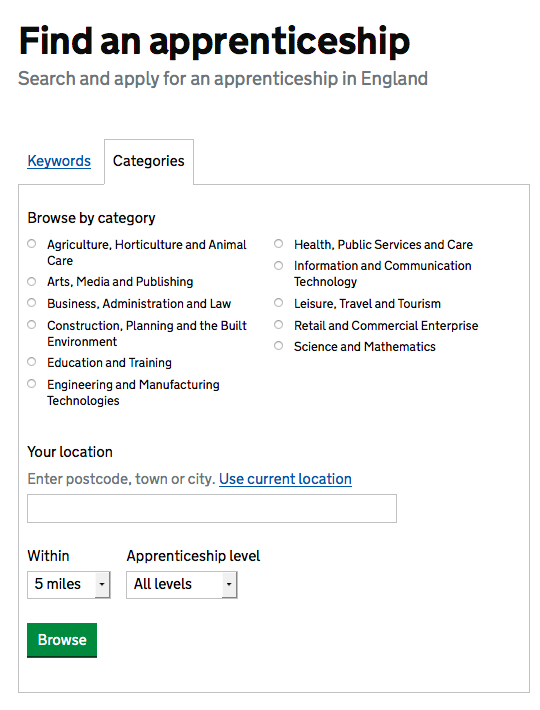 3. We need to communicate early and often
Working in this agile and iterative way is new for us, but we've come to realise it's also very new to our stakeholders. When we produced our beta service – a minimum viable service - some of our stakeholders found it … well… minimal. Those within the agency who'd been able to come along to our show and tells understood why we were working like this, and that we would grow and improve the service during beta, but we hadn't gotten the same message out to those outside the agency. We wrote a blog post to explain our approach. It's a good reminder for us that as we get closer to live, we need to increase our communications with both our direct users and those who support them.
When we signed up to be an exemplar, we thought we and our users would benefit, but we didn't know exactly how. We're coming out the other side with new skills, new operating models and a renewed enthusiasm for our work. We'll do our live assessment in late March and then go live with our candidate service in May. The task is then to take everything we've learned and apply it to the service's employer and provider journeys, so we can fully close the legacy system in early 2016. All that remains for me to say is that classic GDS phrase - 'Onwards!'.
 You can find the Find an Apprenticeship service here.