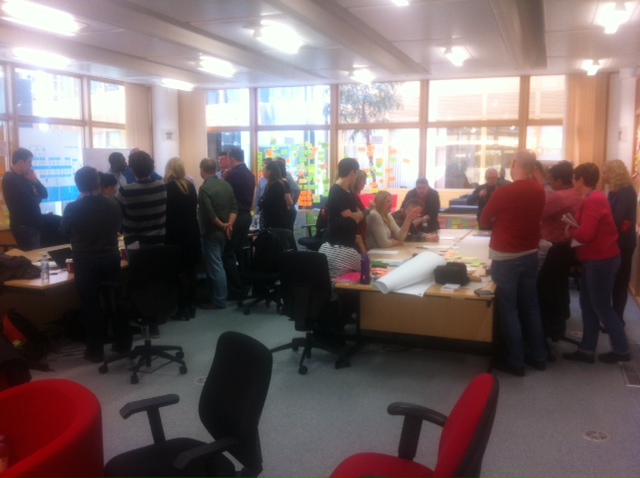 In the continuing series on lessons learned within the Transformation Programme, GDS Transformation Lead Steve Wood talks about the importance of getting the right people in the right room to kick off development of the Personal Independence Payment (PIP) service.
The PIP service inception is up and running!
The PIP service has been a GDS exemplar from the early days, but for sound operational reasons the digital element of the service was reprioritised. Work has now resumed and we are putting some rubber to the road and building a digital service to help disabled people claim this important benefit.
A team was assembled to work on PIP digital and put through the DWP's digital academy at the end of last year. As part of their academy work they carried out a Discovery to identify for themselves the user needs. Our old friend from the Carer's Allowance Digital Service, Ben Holiday, who is now the Head of User Experience Design at the DWP, helped the team throughout Discovery.
So are there many user needs? You betcha!
To get PIP underway Allon Lister, Simon Brunning, David Durant, Roxanne Asadi and I have spent much of the last two weeks working with some great people in the DWP's digital hub in Leeds.
Many of this team are new to agile ways of working, but they're no slouches and its not taking long for them to get up to speed. We are relying heavily on the expertise of people who work in the PIP service day in, day out, from Clodagh who works on the telephone lines in Telford to Joe, one of the decision makers based in Leeds.
There's not enough room here to name them all, but Mel Johnson and Steve Bruce occupy the key roles of Product Owner and Delivery Manager and they will hopefully tell you more about PIP at a later date. Its also great to see Simon Hurst in the team. He is a member of Fiona Speirs' User Research team at the DWP and we know Simon from the excellent work he did on the Carer's exemplar.
There's been a gap between the Discovery and Alpha build. Its taken us time to fill the technical roles, especially as there is a lot of competition for good technical architects and developers! However, a combination of Paul Byrne and Sandra Reynolds helped us recruit the right people. We now have a great technical architect, Mark, who joined with just a few days before Inception started, and one developer, Chaityan, who joined on the second day. A second developer is also joining us soon.
So - Inception. It kicked off in the Leeds One digital hub. For most of the team this was the first taste of an agile inception. Not only as a new way of working, but also a lot of new people to meet. Right people, right place? Yes, definitely.
There is a strong passion in this team for improving the quality of the service for users. We all recognise that disabled people have enough challenges to face without having government create additional hurdles by making the process of claiming a benefit difficult to complete. It's early days yet, but I don't need a satnav to know that we are going in the right direction.
So far we've had some excellent outcomes from our sessions. The architectural vision is clearer and the techie team now have a good idea of how they will build the service. And we should also mention Assisted Digital (AD). We know that in some other exemplars AD has proved to be a challenge, so it's great we've had Roxanne working on this from the beginning. This way we can ensure that people who will need assistance to use the new PIP digital service have their needs built into the system from the start.
So now we've come to the end of Inception and Sprint Zero kicked off this week. No doubt in these early stages a lot of our lessons are still to come but our aim is to minimise these by learning from exemplars that are more mature than ours and make sure we always put the user first.
For further information about this project please visit our blog.