I recently joined GDS as a Product Analyst, tasked with helping the exemplar projects meet the points on the Digital by Default Service Standard relating to data analytics.
Product analytics is not only about inserting analytics code onto a site to produce reports and dashboards. It's more than that. It's about actionable outcomes and working collaboratively with user researchers and content designers to build a better picture of how and why users behave when using a service.
Analytics feed into many of the service standards, I've selected three to explain how we can support government departments to meet these.
Standard 7
Requires services to establish performance benchmarks around cost per transaction, user satisfaction, conversion and digital uptake.
Alongside the GDS Performance Platform team we can support teams to set up web analytics tools. These tools provide metrics such as visits, page-views or transaction completions and conversion rates, metrics that can be fed into the performance platform.
Look at the MOJ Lasting Power of Attorney dashboard to see how data has been used to show the performance of the service.
Standard 18
Mandates services to use analytics tools to collect performance data.
We support teams to identify metrics to help measure a services' performance. Web analytics training can be accessed by teams to help find actionable data insights which can be fed into product design.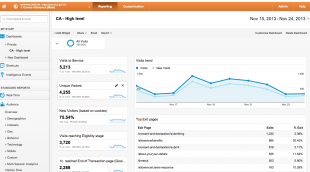 GDS and DWP Claim Carer's Allowance teams have been working together to create reporting dashboards.
Standard 20
Requires services to put in place ongoing user testing and build skills around multivariate tests.
We can support development teams to measure data points to create funnels and identify stages in transactions where there are high failure rates or abandonment. These stages can then be targeted for user testing.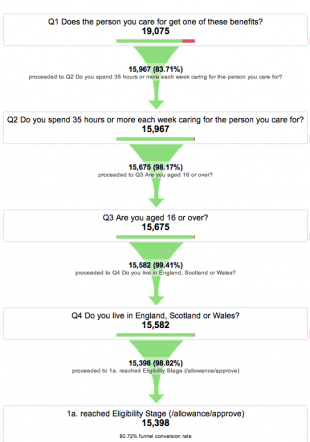 Here's an example of a funnel set up for Claim Carers Allowance exemplar. It shows how users flow through or abandon the initial eligibility stage of the application process of this service.
Product analytics can assist service teams to set up well designed A/B or multivariate tests of any design changes, and provide the data needed to maximise user satisfaction, conversion and digital uptake while minimising cost per transaction.
Over the next few weeks I'll be talking to colleagues to understand current product analytic capabilities across the exemplars, in order to better prioritise how we provide support.
Read more about product analytics on the data at GDS and inside GOV.UK blogs and feel free to contact me with your questions.