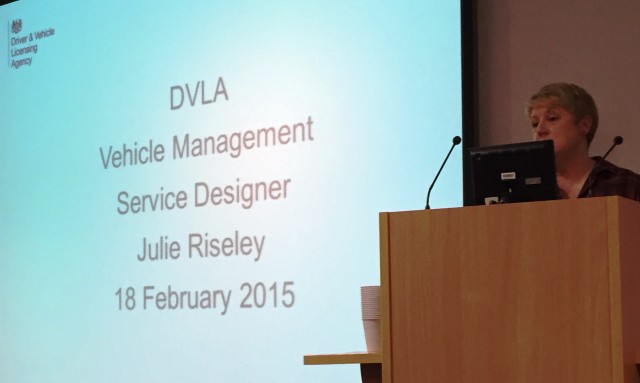 In the last in the series on lessons learned within the Transformation Programme Julie Riseley, Vehicle Registration Service Designer at the DVLA, looks back on a year of change for the Vehicle management service.
It was just over a year ago that they dragged me kicking and screaming into the world of digital exemplars. A lot has changed in that year; most noticeably me. Firstly, I can't believe that I am writing a blog. I thought it time, though, to let the world know how well our team in Swansea have done in such a short space of time.
Never assume user needs
Working on the DVLA's Vehicle management exemplar has been insightful.
Whilst we knew that our V5C registration document was complicated, it wasn't until we broke down the transactions and sought direct customer insight that we understood how difficult it really was for users to understand. We gathered insight from the general public and trade customers and were surprised by how similar their needs are: they all wanted simplicity and guidance to allow them to achieve the right output.
We have worked tirelessly as a team to ensure that these needs have been met. As a result, we have received excellent feedback with user satisfaction at around 97% and service take-up constantly growing.
Learning new skills
I'm not the most digitally experienced person in the world and the past year has been a steep learning curve for me. New technologies, a new digital language (words like sandbox and cucumber have taken on new meanings), suppliers, digital by default criteria have all needed understanding. As a Product Owner I have found that it's important for me to engage on every level of the project, so it has been a lot to take on.
Teamwork
I have had a fantastic, spirited team working with me.  We have shared setbacks and successes. We have shared knowledge and feedback and have motivated each other and our users. We have all: learnt new skills; pushed ourselves to take on new tasks; and have been surprised by our achievements. I have probably been the one most personally surprised by this. I can honestly say with pride that my users and team have taught me all I know as a digital transformer. To colleagues across government beginning on their own journey's to make services simpler, clearer and faster for users I would say it really is never too late to learn.
You can access the Vehicle management service here.