A lot has happened over the past few weeks across the transformation programme and within the departments and agencies among our exemplar services.
7 up
We've seen a number of services go live recently, here's a look at the most recent three exemplars to move out of beta...
MoJ Digital, working with colleagues in the National Offender Management Service, HM Prison Service, HM Courts & Tribunals Service and GDS, released 2 exemplars one after the other: Prison visit booking and Civil Claims.
You can watch a great video explaining how the new Prison visit booking service is making it easier for people to visit their friends and loved ones in prison.
If you're currently working on a transformation project yourself, this blog post should be on your recommended reading list. Civil Claims Product and Service Manager Eliot Fineberg gives an honest insight into the steep learning curve he and his team experienced on their way to live.
Last but not least, View driving licence - the service that allows drivers to find out if they really can get behind the steering wheel of a road roller - went live today. The new GOV.UK Verify service will integrated into View driving licence very soon.  You can read more about View driving licence, and the DVLA's two other exemplar services, on the DVLA blog.
Registered Traveller Service public beta release
There have actually been two big milestones for the Registered Traveller Service team over the last few weeks. They saw the 1st non-EU traveller through the new Passport egates and the service itself passed its beta Digital by Default Service Standard assessment.  Service manager Julian Dos Ramedios said that passing the assessment was a "superb achievement" and represented the result of a tremendous amount of work over the last 12 months. I'd like to add my own congratulations to the team - well done!
Across the exemplars
PAYE for employees passed its beta assessment and will move to public beta next month. The service will allow PAYE employees to view and change their company car tax benefit which will ensure that they pay the right amount of tax based on the company car they have. I hear the assessors were particularly impressed with how the team are iterating and improving the service based on data and evidence gathered from regular user research.
The team at Redundancy payments, one of BIS' exemplars, have started work on their private beta. The team is aiming to simplify a process that has historically involved claimants completing a 16 page paper form to claim their initial redundancy entitlements. 80% of those same individuals would have then had to complete another 2 page form a few weeks later for a further entitlement.
After months of development and research with users, the service is now being tested with a limited number of claimants. These users will help the team identify any new user requirements or adjustments that need to be made to improve the customer journey.
Head of GDS Mike Bracken has visited another exemplar - you can read about what he learnt on his trip to Apprenticeship applications in Coventry here.
Elsewhere in transformation
Work continues on developing new guidance on governance for service delivery, with our first instalment now published in service design manual.
Ash Stevens - the Transformation team lead on this work - explains: "Following on from GDS blogging some principles for good governance back in June 2014, we have published a further set of guidance on governing digital services. We're planning to test and iterate this through the Autumn."
Do keep an eye out for the next instalment which will follow in the next couple of weeks.
Making a difference for so many users
It's great to see the exemplars beginning to make a real difference for users. In advance of our recent Sprint Beta event we wanted to get an idea of how many people have interacted with government using the 14 services that are currently accessible to the public.
We asked around the exemplars and discovered that approximately 3,776,000 users have so far made claims, submitted applications and registrations, processed renewals, checked records and arranged bookings. This includes well over 1m registrations to vote and more than 100,000 Carer's Allowance applications.
Part of the reason for this incredible take-up is down to the fact the exemplar services are designed not just for use on desktop computers. The online transactions have been built with user needs in mind and we know they need to be easy and convenient to use. This is proved by the latest statistics from Prison visit bookings, showing that 65% of users are accessing the service on mobile devices and tablets.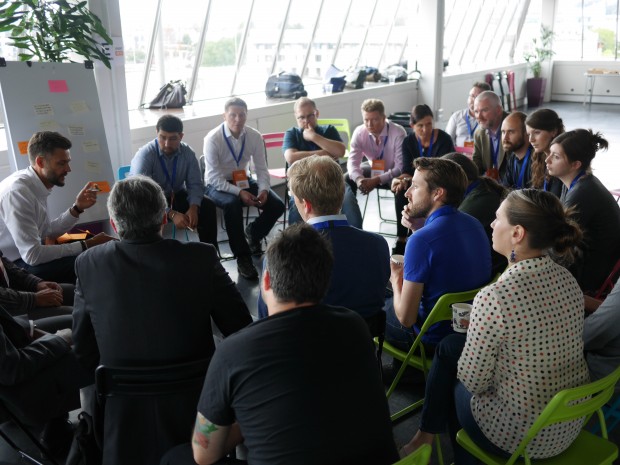 Keep in touch. Follow David on Twitter or sign up for email updates.