I'm Hugh Ivory, I work in the GDS Transformation team. Recently I've been working with our colleagues in the Immigration Platform Technologies (IPT) Programme at the Home Office to run a governance pilot. The purpose was to help them govern service delivery in a new way to support the delivery of digital services by applying the GDS Governance Principles and accompanying guidance.
The objective of this pilot was to demonstrate that this new way of governing service delivery is not just an abstract concept, but can have real, tangible benefits for delivering digital transformation. This post outlines how we approached the work, and some of the outcomes that may benefit other service delivery teams, programmes and departments.
What was the challenge?
The IPT Programme is providing the technology and information to support the immigration service now and in the future. It is working closely with UK Visas & Immigration, Immigration Enforcement and Border Force.  Along the way, it is replacing 5 existing technology systems.
This governance initiative started when GDS was developing some governance guidance at the same time the Home Office was thinking about how to govern services being delivered through agile programmes and projects.
It made sense to pilot the governance guidance in the IPT Programme.  We set out with the following objectives:
build sustainable agile capability in IPT
make IPT more efficient and effective by introducing more agile governance arrangements
road-test the new governance principles and guidance
create a Case study for agile governance that others could refer to
Read on to find out how we did this, and what the outcomes were.
What we did
We believe that transforming to an iterative and adaptive way of working should be managed as a change activity in its own right, so we started by running a discovery, which delivered a vision for what a truly agile IPT Programme would look like.  We used this vision to help us to define user needs, and created a product backlog of improvements.
We ran weekly stand-ups, and planned monthly show and tells.  A physical team wall was created as a visual tool to allow the team to track progress on stories.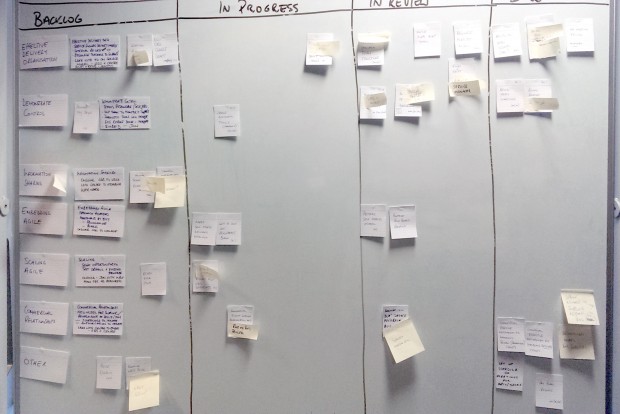 Checking progress and resetting
After the initiative had been running for a number of weeks, we ran a retrospective as we prepared to provide a status update to some of our senior stakeholders at GDS and the Home Office.
The changes we were making at the delivery team level, where people were able to dedicate time to making improvements were progressing well, whereas changes focused on governance at the programme and Home Office levels were more challenging.
At this point, we considered that the initiative was not addressing the programme's key challenge of working as an agile programme within the Home Office.
To address these concerns we dedicated a number of experienced, capable people for a period of 1 month to focus on the priority areas that were causing the real problems.
Outcomes and benefits of improved governance in the IPT Programme
We completed the pilot with the following outcomes:
1. A better understanding of roles and responsibilities
The programme has set defined responsibilities for service managers and product owners (respected business subject matter experts who will lead the change in their operation), with focused induction materials.  The programme team is actively working with the Home Office to define the requirement for future service managers; product owners and policy makers, to ensure resources are available at the right time.
2. A better understanding of how to run a discovery
An approach to the discovery phase with defined objectives, activities and deliverables has been piloted and is now being used in multiple projects.
3. A new framework for managing commercial relationships
The IPT Commercial team has made significant progress in defining how to procure and manage multi-disciplined, multi-supplier teams, using the Digital Services framework (DSF), with feedback provided to GDS and Crown Commercial Services.
The team is working with new supplier teams to agree how best to establish commercial relationships in this new model.  The team has prepared a supplier scorecard, and established a Memorandum of Understanding focused on fostering cross-supplier collaborative relationships.
4. A framework for an effective delivery organisation
The programme has re-aligned its organisation structure to focus on service delivery. In doing so, it has defined a scalable service delivery model, with defined core team and support roles, and a light governance layer across the business, technical and delivery domains.
5. A better understanding of how to embed agile behaviours
GDS and IPT have developed a self assessment tool to enable delivery and governance teams to assess their adoption of the governance principles on an ongoing basis.
What have we learned about agile transformation?
Treating the transition to an agile approach as a change in its own right can be successful:
make sure there is clear ownership for the initiative
use the governance principles as a driver for cultural and behavior change
assign a product owner and delivery manager for the transformation
allow the appropriate people time to focus on the improvements
be patient and iterate – work on the priority items and don't try to boil the ocean
Agile projects and programmes survive and thrive when they are delivering within agile organisations. It is important that senior stakeholders understand the cultural change that may be required, are fully engaged and committed to working in an agile way, and understand the implications for how they govern.
What's next?
As a result of this successful pilot GDS has a reference point for organising a large-scale business change programme focused on service delivery. We would encourage others to come and see what's happening in the IPT Programme.  It's moving in the right direction under the guidance of a team dedicated to continuous improvement and embedding the right approaches to service delivery.  We've also been able to improve the GDS governance guidance through user research with members of the programme team.
We'll now turn our focus back into the centre of the Home Office, concentrating on:
1. Information sharing
GDS will work with the Home Office to identify the priority reporting needs and to encourage consolidation and reduce the burden on delivery teams.
2. Service model
Home Office Digital (HOD) and Home Office Technology (HOT) are working together to define a future service operating model.  GDS and the IPT Programme will seek appropriate opportunities to pilot the transition to this model.
3. Embedding agile
GDS will work with IPT and the Home Office to assess and improve the adoption of an agile approach, running assessments with delivery teams and the governance team and providing an ongoing view of adoption to HOD, HOT and the IPT Programme Board.
4. Scaling agile teams
GDS and IPT will work together to identify opportunities to test the scaling guidance.
5. Commercial
The model of engaging with suppliers for delivery of digital services is different to traditional procurement models. GDS and the IPT Commercial team will work with appropriate stakeholders at the Home Office and with other assurance groups to raise awareness and adoption.
6. Assurance
GDS will assist the IPT Programme with upcoming Business Case and Programme Assurance reviews, applying the assurance guidance which is soon to be published in conjunction with Major Projects Authority (MPA) and the Treasury.
To learn more about this new way of governing service delivery, contact Hugh Ivory and Jon Mundy.