We're far enough into the Transformation Programme - with 7 services now live and more on the way - to have learnt a thing or two about releasing a digital service into the wild. As you'd expect, it isn't as simple as just letting them go. Mark O'Neill - who supports delivery across the programme - shares with us some reflections from the team on getting exemplars to live.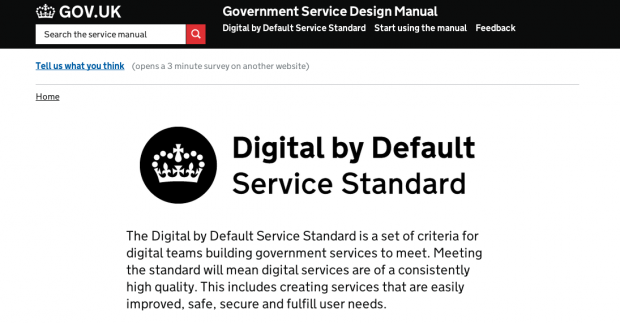 Over the last 2 years, we've worked to build relationships with departments and support them in delivery. We've taken many services into public beta and then live since the new Digital by Default Service Standard came into force in April 2014.
We think now is a good time to share some of the things we've found out, both through the Digital by Default Service Standard assessment process and the feedback from departments following assessment. If you're building a digital government service, you may wish to take note...
1) Prepare thoroughly
No bad can come of regularly reviewing progress against the 26 criteria and holding mock assessments.
Whether you have a large print-out of the criteria on the office wall which you use to advertise and track progress, or have regular progress meetings and add stories in pivotal tracker, your team should build in the Service Standard from the start.
A mock assessment will allow you to prepare fully for the assessment by highlighting any gaps where responses may need to be improved or more supporting evidence provided.
You might want to work with other service owners to assess each other's services or, at the very least, sit in on assessments to learn and share.
2) Understand the scope of the service and its users' needs
You need to be able to articulate the scope of the service, how it meets user needs, and how people will actually use the service.
This means you must be able to clearly set out the different type of users your service supports and demonstrate - through evidence gained in user testing and research - that the service meets the need of all the users covered by the scope of the service under assessment.
3) Support service managers
Departments need to give service managers organisational support and ensure they have the capacity to really focus on making sure the service and team are ready for the assessment.
You may be committed to a demanding delivery schedule, which puts pressure on your team to prepare for assessment, particularly when it comes to the live assessment. Service managers should be in the lead during the assessments and they will need to be able to dedicate the time to prepare along with support from colleagues such as Product Owners, BAs and analysts.
4) Consider timing carefully
It is very important that a service's readiness is addressed ahead of time to give it the highest chance of success.
Don't push a service for assessment before it's ready and approach the assessment team if you have concerns about an existing schedule.
5) Keep in touch
Departmental teams should talk to GDS transformers and assessors to seek advice on any points they're unsure about. We will always try to be as clear as possible about any gaps or issues.
Of course, these lessons aren't just useful for exemplar services. But, with less than 150 days to go until the end of the Transformation Programme, it's important that we all work together to ensure that the excellent user-focussed services which people have been building are ready to be made public or to move to live.
The 26 points of the Service Standard are the bedrock of the assessment process but don't forget, you need to understand and be able to tell the story of how your service works from the user's perspective. Without that, and the evidence to bring it to life, the service will not be ready and will not pass.
If you have any questions about the assessment process then please let us know.
Have you taken a government digital service live? Share the lessons you've learnt with us in the comments below. If you'd like to browse the full outcomes of Digital by Default Service Standard assessments for the exemplars you can find them all on the GDS data blog here.