As David mentioned in his latest highlights post, the Transformation programme was recently invited to take part in Civil Service Live.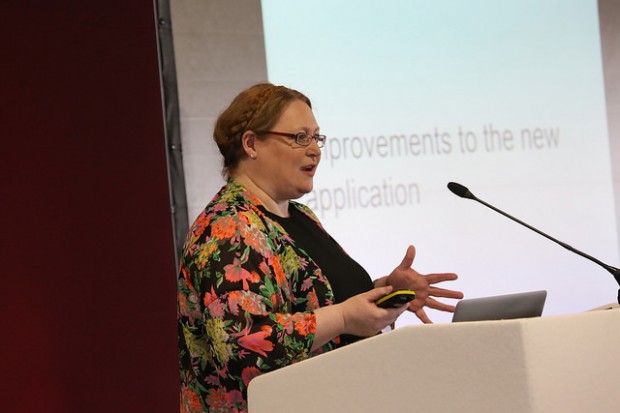 This annual conference takes place at locations around the UK and brings together public sector workers and private sector stakeholders to collaborate, learn, and inspire innovation. This year the events were held in Bristol, Liverpool, Newcastle and London and we thought it would a great opportunity to share some of the fantastic work that's been going on across the exemplars.
The idea was to give those working on digital transformation - or thinking about it! - an overview of the work that is going on across departments. We hosted 2 showcases on each of the five days and spoke to around 850 delegates. The sessions featured demonstrations of digital services from the teams at DVLA, the Intellectual Property Office, DWP's Carer's Unit, MoJ Digital, the Office of the Public Guardian, the Student Loans Company, Home Office and HMRC.
10 exemplars, 10 showcases, 850 civil servants and 1 modern Civil Service
The presenters - a mix of service managers, product owners and programme directors - each managed to present a pared-down history of the exemplar, give an overview of their adventures in agile development, demo the service, and even answer a question or two from the audience in the intense 20-minute slot we gave them.
Ryan Davies, James Church and Fiona Evans who demonstrated View driving record and Renew a patent in Bristol did all of this flawlessly against a backing track supplied by the GCHQ brass band, Top Secret Brass. True professionals!
In Liverpool Tony Duarte and Leigh Mortimer dealt with flakey WIFI when showing the Prison visit booking and Claim Carer's Allowance services by cleverly swapping live demos for videos of user stories and informative screengrabs showing how the services have evolved. Leigh gave a great account of how continuous user testing of the Claim Carer's Allowance service had led to measurable improvements. Carers have limited time to get information and complete an application because of the care they're providing.  Leigh explained how the team simplified the Carer's Allowance claim process by removing unnecessary questions and reducing the steps to completion. At the start of development users viewed 52 pages before completion but improvements during the beta phase have reduced this to 38 page views, knocking almost five minutes off the average completion time.
Kaz Hufton and Simon Manby, presenting Lasting Power of Attorney (LPA) in London, answered difficult questions - not just about how policy affects a live digital service and working for the first exemplar agency where every online transaction will be assessed against the Digital by Default Service Standard - but also about how an LPA can help people to plan ahead for an uncertain future.
Another highlight in London was when Lee Hawksworth, digital service manager for PAYE for employees, was asked about the value of user engagement and responded with "I'd recommend, without hesitation, that any employee of a government department should spend a time in a customer contact centre. [Contact centres] are a gold mine for the kind of information that can shape service development".  The fact that his fellow presenters and a large proportion of the audience nodded along in agreement shows that with modern government digital services the focus really is on understanding placing users first.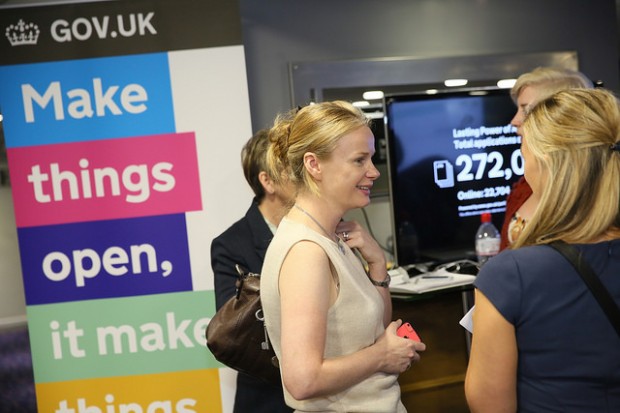 Here's some feedback on the sessions from some of the speakers...
Colin Dingwall presenting Electoral Registration said: "I really enjoyed it! Nice, as always to share the product, but it's always really interesting to hear audience feedback and we had some interesting points raised including how do we manage the interaction between the law and agile development, which is a challenge that all three exemplars presenting in London touched upon."
Julie Griffin presenting Student finance said: "It was great to be in an environment where everyone was so keen to share their experiences and knowledge, and so open to what they could learn from our journey so far."
Tony Duarte: "It was useful to have to summarise the learnings from the project so far, as I'm usually caught up in delivery. And it was great to get feedback and make connections to share the open source components."
Fiona Evans: "It was good to have the opportunity to share some of our user research and outline how the online patent renewal service has been designed to meet customer needs and deliver benefits.  Given that we were going live the following week, it was also great to be able to show how our in house development and business teams have worked together to deliver the service."
Simon Manby: "It was a pleasure to take part in the demos. The 15 minute target was tight to do a complex user journey on a product most people don't know about. But it was really useful to see the other demos and put what we are trying to achieve here in context of the wider work the exemplars are doing."
Were you at Civil Service Live? Did you attend one of our speedy showcases or chat with the team at the GDS exhibition stall? We'd love to know what you thought of the event - let us know in the comments below...