It seems to me that these updates come around quicker every month but it may just be that we've had another busy few weeks across the transformation programme!
Released this month
The team at the Intellectual Property Office (IPO) has worked with GDS to build an entirely new digital service - Renew a patent - which allows patent owners and their agents to renew patents online. Once a patent is granted to an inventor or company, they can have rights over that intellectual property for up to 20 years, provided the patent is renewed annually.
The new service went live on 1 July and is a simpler, faster alternative to submitting a renewal by post or by fax. The online service calculates the fee for renewal automatically as part of the transaction which avoids one of the main errors linked to the paper filing process - underpayments and overpayments. Automatic acknowledgement emails also give users peace of mind that their renewal application and associated fees have been received by the IPO.
With more than 2.5million patents published in the history of the IPO and approximately 400,000 renewals per annum, the team will be working hard to continuously develop the live service that has so far been used by people from 28 countries around the world.
You can read more about how the team got this service live in Geoff Court's recent blog.
Continuing on an international theme, the Visas exemplar released a public beta of the service for users who want to visit the UK from mainland China. Well over 200 applications were received within the first 48 hours of the beta going public. The  team working on the China Visit Visa service have done a fantastic job to deliver - on schedule - a beta service which includes translated content that deals with matters of law, policy and security as well the needs of users who have English as a second language and GOV.UK content guidelines. This service is one that I have a close connection to, since I was part of the team that did the discovery in early 2013!  Congratulations to Will Garner and everyone at Home Office for progressing this far with such a challenging service.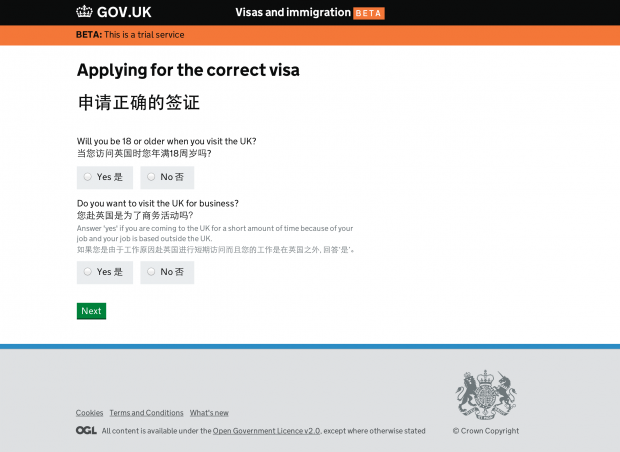 Service Standard success
Exemplar 20, Passports, passed its alpha Digital by Default Service Standard assessment meaning the team can now begin work on building the beta. There were some great comments from the assessors, including the observation that 'the service is an outstanding example of an alpha service'. Despite being the youngest member of the transformation programme (Passports only started its discovery phase in January this year), the service is growing up quickly and team at the Home Office are really motivated to deliver a fully digital passport service in an agile way.
What we mean when we talk about governance
The transformation programme has produced some guidance on governance in an agile world. If you're interested in how to make sure that the right things are being done in the right way (otherwise known as governing service delivery) you can read about our six governance principles and how they were developed in this blog post by Ash Stephens. The guidance is in alpha and the team responsible are really keen to get some feedback on what's been covered so far to help them develop and improve their future guidance. Have a read and share your thoughts by completing Ash's survey.
Le Tour de Transformation
Finally, it won't have escaped your notice that a prestigious tour has been taking place recently where keen participants have clocked up the miles across England whilst enthralling huge crowds. Of course, I'm talking about the Digital Services Showcase that's been taking place at Civil Service Live events across the country! Product owners, service managers and project leads from the exemplar teams across government have been taking their services on the road.
Presenting on the theme 'A modern Civil Service', speakers had 45 minutes to show their exemplar and share how the services have users at their heart but also improve the working lives of civil servants. Addressing an audience of up to 350 of your peers, talking through your successes and failures and running a live demonstration of your service is no mean feat.
DVLA's Ryan Davies and James Church demonstrated View driving record in Bristol along with Fiona Evans of BIS/IPO who showed Renew a patent. MoJ's Tony Duarte and DWP's Leigh Mortimer shared some inspiring user stories for Prison visit booking and Claim Carer's Allowance in Liverpool. Lindsay Brown and Julie Griffin of SLC and HMRC's Angela Hewitson presented demos of Student finance and Digital self-assessment in Newcastle.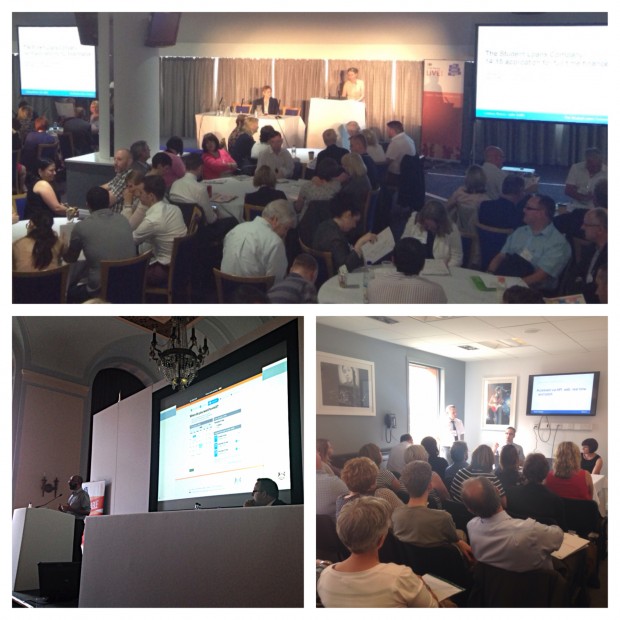 Although there was no brightly coloured jersey to be won, there were other benefits to taking part and sharing the experience of transforming a major government service. Julie Griffin said afterwards "It was great to be in an environment where everyone was so keen to share their experiences and knowledge, and the audience was so open to what they could learn from our journey so far. I really enjoyed it".
You can catch the final stage of le Tour de Transformation at Civil Service Live in London on 15 and 16 July. Colleagues from exemplars within DVLA, MoJ, Home Office, Cabinet Office, the Office of the Public Guardian and HMRC will all be taking part in the Digital Services Showcase.  I hope to see you there.
Allez!
Want to keep up-to-date with transformation news? Sign up for email alerts.