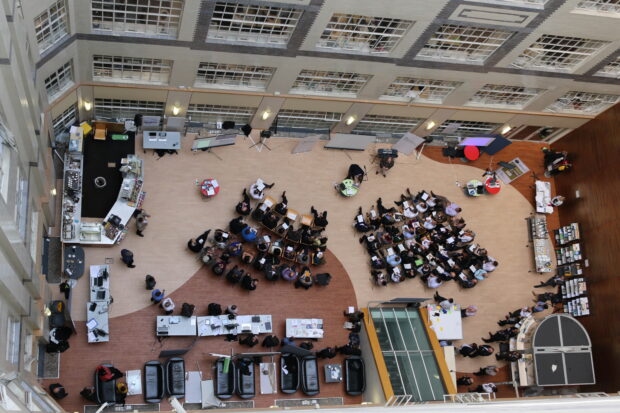 I'm a bit slow off the mark with my regular update this time around but that's not because of a dearth of things to write about - quite the opposite in fact!
Starting with a quick round-up of progress across the transformation programme exemplar services; Vehicle management has moved into beta, the Apprenticeship applications service passed the service standard assessment and moved from alpha into beta. Since April, services must satisfy the criteria as stated in the Digital by Default Service Standard, which went live on 1 April - read this post here for more information.
There are also many more performance dashboards up and running: this post here shows the recent releases. Some of our exemplars - Lasting power of attorney, Claim carer's allowance, Waste carriers and Patent renewals - are already linked up.
Events 
Defra ran their own Sprint event, held on the 23 April, hosting over 100 attendees who enjoyed learning about the range of digital projects and services across Defra. The event was focused on showing and sharing – with a number of stalls where attendees could meet the teams and demo the services including the Rural support and Waste carriers registration exemplars.
On 13th May, GDS had a stand at the Public Sector Show and three of our exemplars were showcased in the afternoon, which we will blog about in more detail next week.
The business case for agile
On 11 April GDS and HMT published agile business case guidance. This guidance explains how government organisations get permission to spend money on agile work to support the broader transformation of digital services. For more detail see this blog here.
Exemplar visits
A few of us from the GDS transformation team travelled to Swansea recently to visit the teams at DVLA to see progress on their digital services. Thanks to Iain Patterson, Director of Technology, Ross Gregory, Delivery Lead for Vehicles Management, Service Manager Rohan Gye, and Chief Architect Mark Evans I saw the progress of the exemplars and met the teams delivering them. It was a good opportunity to see the Vehicle management beta and to reflect on View driving record now that it is available to the public. DVLA demonstrated how they are using google analytics to track performance and take-up, and how we were managing the transition into the next phase of the enquiries programme. Follow the DVLA's digital blog and @DVLAgovuk for updates. Lots happening! 
We also visited Student Loans Company - look out for a blog post on that very soon.
Want to keep up-to-date with transformation news? Sign up for email alerts.