I'm a bit late this month with my round-up of progress on the Digital Transformation Programme - I've had a couple of weeks summer hols leave, relaxing in the sunshine, so I'm keeping this post short and sweet.
At this moment in time the programme has 4 services live and a further 9 in public beta. Citizens are online right now accessing a diverse range of new digital services that simply didn't exist this time last summer. The average user satisfaction rating across the live services is 90% for July/August. In my view, this proves that by focussing on user needs during early development, teams are building digital government services that are simply better for those that need to use them.
Wish you were here
View Driving Record passed its Digital by Default Service Standard assessment to go live, meaning it will be one of the next exemplar services to reach that milestone. This is a great achievement for the team and you can read the full report here.
A new performance dashboard has been released for Prison visit booking. 7 of the exemplars now have a dashboard of their own showing how the services are doing, like how much they cost to run, how many people use them and that vital user satisfaction figure. The next services lined up to get a performance dashboard will be Civil Claims and Visas. The design manual explains in more detail about the importance of this transparent monitoring.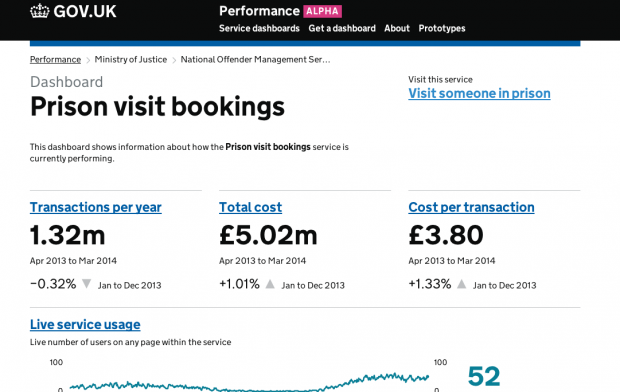 Postcards from the exemplars
Rather than grab a discount deal on a last minute getaway, Mike Bracken - who heads up GDS - visited two exemplars this month. I hope the teams working on Apprenticeship Applications in Coventry and Waste carrier registration in Bristol enjoyed sharing their successes and challenges with Mike, who is blogging about his visits to all of the exemplars. So far Mike's reported back from Civil Claims, Claim Carer's Allowance and Prison visit bookings and we look forward to receiving our postcards from this latest round of visits.
Want to keep up-to-date with transformation news? Sign up for email alerts.