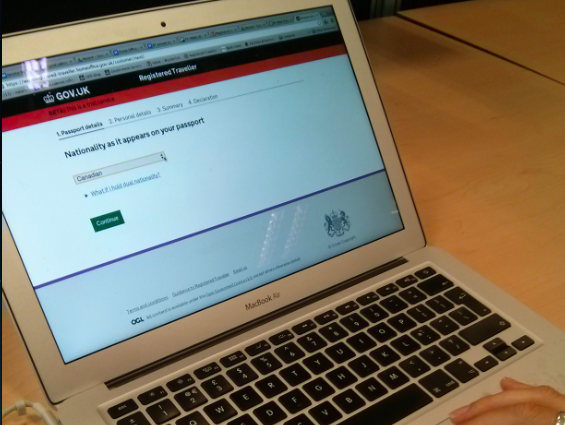 Registered Traveller is a new service for frequent travellers coming to the UK who are citizens of the USA, Canada, Australia, New Zealand or Japan. By registering through this system beforehand, eligible travellers do not need to be processed through the normal international passport desks and so can pass through more quickly. Registered travellers with a biometric chipped passport will be able to use the electronic passport gates.
More users - more data!
On 31st March, Registered Traveller went into private beta, launching its new webform. The preceding two weeks were a flurry of technical tasks and to-ing and fro-ing between the team, service management and the security accreditors to make sure that we had crossed all the t's and dotted the i's before unveiling it to the newly expanded pilot users. We have since expanded the pilot to other immigration categories, enabling us to gather more data and target those travellers who would benefit from the scheme the most: people with indefinite leave to remain and certain visa categories. (For more details about the eligibility criteria, click here).
About a week before the form went live, we realised that more time was needed to work through the changes with the officers on the frontline, so a decision was made to delay adding some of the visa categories. This meant that we had to make last minute changes to the eligibility section of our form, but within two days this was done and ready for release without affecting our accreditation.
The day of the rollout was fairly smooth, with only a minor issue related to redirecting the URL, which the team had fixed within a couple of hours.
On the same day we contacted all of the people who had shown an interest in becoming a Registered Traveller, but were previously ineligible, and within 3 days we had over 300 unique pageviews, resulting in over 100 new applications to join the scheme – more than the previous 3 months put together.
More users - more feedback
A few weeks after releasing our private beta, we were ready to add the visa catagories back in to the eligibility. We were able to make the changes and put them live quickly without any issues. Since these changes were made, the number of Registered Traveller members has doubled in less than two months.
So far feedback from surveys and user testing has been very positive, and where possible issues that have arisen have been dealt with quickly and efficiently.
Now our focus is on creating a backend caseworking system, built based on user needs and expanding the service to include more eligible users – so watch this space.