An 'online patent renewal service' may not sound gripping to all readers, but it is transformational, improving the experience of both Intellectual Property Office (IPO) customers and the people who handle their patent applications alike. It's a mini revolution for a well-established organisation with a passion for protecting the ideas, brands, inventions and creativity of individuals and businesses across society.
Providing a high quality rights granting service that honours customer needs is core to what the IPO does. That's why, as customers increasingly operate electronically, we have made sure the vast majority of our transactional services are online. Enabling e-patent renewal is thus a natural step in our mission to allow customers to apply for and manage their IP rights in a single place through an easy to use service.
Last week we launched the 'private beta' phase of our new service, which is one of the GDS exemplar projects. Its low key but positive reception captured the smooth efficiency we had been aiming for. But we didn't shirk the opportunity for the sternest of user tests: Lord Younger, Minister for Intellectual Property, visited our Newport Offices to trial the system and commented "It's just like booking a flight...the service will save businesses time and effort as it's simple and easy to use."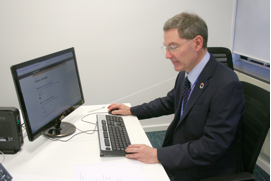 That was our goal: a light touch, simple and straight forward process that will do away with paper form filling, posting and faxing, and make life just a little bit easier for everyone involved.
Perhaps inevitably, the journey to the new service has not been quite so simple and straightforward as we worked to become more agile in the way we deliver new products, but it was helped along by a strong relationship with GDS through the development process. We benefitted immensely, especially during the alpha phase, of having an onsite agile coach, Jeremy, who provided invaluable guidance and support to a real team effort, which drew contributions from right across our organisation and customer base, to develop and road test the new service.
As we enter the 'private beta' phase, we're not done yet. We will keep a close eye on the feedback from our invited customers, who will give the new service a thorough testing. We are confident, based on the experience so far, that we will complete this phase with few issues and we will be on target for a public service in early 2014.